Super Early Bird for SEETEST 2020 is now open!
15 Jan 2020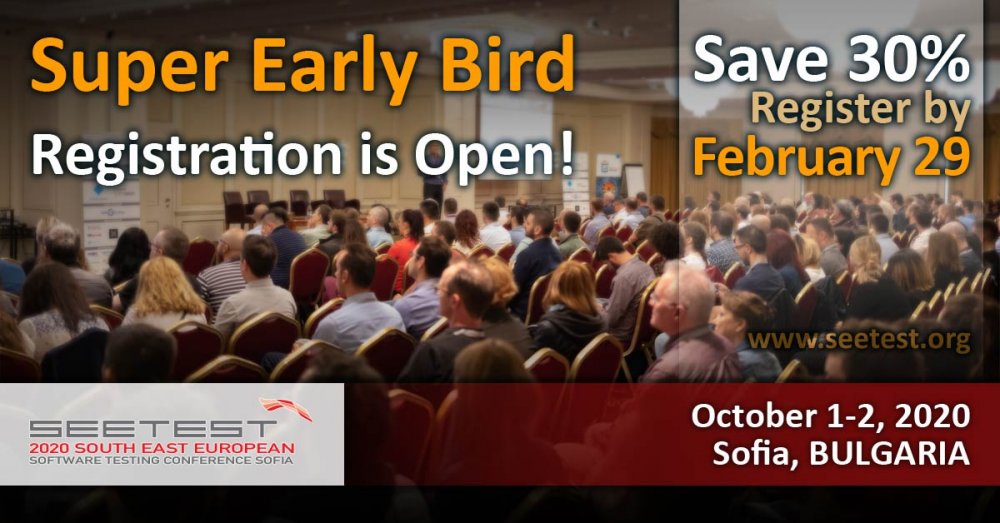 The international software testing conference's 9th edition will take place on October 1-2, 2020, in Sofia, Bulgaria in the brand new Grand Hotel Millennium Sofia. For everyone eager to secure their place at the event, the Super Early Bird campaign is now launched – you can buy Full Conference tickets with 30% off by the end of February.
The SEETEST conference has now become a tradition and the place to be for software testing professionals in the South-East European region. The event was created with the aim of popularizing software testing and its importance in the region, as well as contribute towards establishing a so-called testing community in the area, consisting of like-minded professionals. Traditionally, the conference's location rotates between the three countries covered by its organizer SEETB – Romania, Bulgaria and Serbia. This year SEETEST is finally coming back home in Sofia, Bulgaria after a short tour in the vicinity. So if you live nearby, don't miss the chance to go, because the tour starts again next year!
Quality of the talks and a variety of topics are at the forefront every year for SEETEST's organizers. This year the conference will continue following the newly updated four-track format from 2019. In numbers, this means 8 tutorials, 20 sessions, more than 32 speakers, and two days full of learning. The organizers SEETB and Quality House are expecting more than 500 participants this year, so there will be plenty of opportunities for networking too.
Top international software testing professionals form the tutorial and keynote speakers 'team'. Past speakers include names such as Erik van Veenendaal, Olivier Denoo, Vipul Kocher, Paul Gerrard and many more. On the second day of the conference, participants can choose from multiple session topics and speakers, specially selected by the SEETEST Program Committee in a very vigorous competition.
The conference also features an exhibition area, where sponsors can showcase themselves and their ideas, and interact freely with participants. On the day prior to the conference start, full-day courses are organized – a great chance to get deeper into various software testing skills and knowledge. Tickets for those will be sold separately and the topics will be announced later, so be sure to keep updated on SEETEST's website and social media channels. The cherry on top of all this is the traditional Social event on the first evening of the conference – a perfect way to finish the day on an informal note, and relax, have fun and network with colleagues from around the world in a classy setting.
Full-conference tickets for SEETEST 2020 with 30% off are already out for those eager to secure their place at the event. The campaign ends on February 29, and offers the biggest discount for conference tickets for this year's edition. You can register at:
https://seetest.org/index.php?page=register-now
Back to News