IREB® CPRE Foundation Level
IREB® CPRE Foundation Level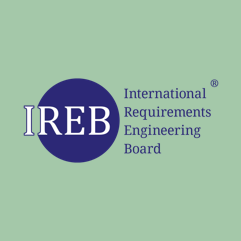 The IREB® CPRE Foundation Level Qualification
is a valuable tool for all professionals dedicated to making a lengthy career in Requirements Engineering. This exam tests the core understanding of the field alongside business analysis and testing.
The examination has a strong focus on the following areas: requirements elicitation, requirements verification and requirements management for the entire product life cycle.
It's important to highlight that this certification scheme is developed by the IREB. As such, its contents are taught by independent training providers. The CPRE exam can only be taken at approved certification bodies. What's good about this qualification is that the CPRE certificate has a lifetime validity.
What are the entry criteria?
There are no prerequisites to apply for the IREB® CPRE Foundation Level examination. It's in your advantage, if you have basic practical and theoretical knowledge in eliciting, analyzing, specifying, documenting, validating and managing requirements.
Certified Professionals for Requirements Engineering Know How to:
Work with the terminology of requirements engineering, business analysis and requirements management;
Understand the basic techniques and methods of requirements engineering and their application;
Work with the most established notations for requirements. There are more than 10,000 professionals who have achieved the CPRE certification worldwide.
IREB® CPRE Foundation Level Contents
IREB® CPRE Foundation Level Exam Structure:
The CPRE – Foundation Level certification exam is a multiple-choice test, which consists of 45 questions in total. Questions are of differing difficulty and therefore assigned different amounts of points: 1, 2 or 3 points. Applicants face single questions (with only one correct answer), multiple questions (with two or more correct answers), and True/False Statements. Examination is closed book, i.e. no materials are allowed to be used. The passing score is 70%. Exam duration stands at 75 minutes for English native speakers and 90 minutes for non-native speakers.